About Canon 2 Lens Kit
The pictured Canon 2 Lens Kit drops from $899.00 to $849.00 at Adorama and Shipping is free!
Advance to a new realm of image quality with the Power to Create Advanced 2 Lens Kit. Including the ultra-wide EF 17-40mm f/4L USM zoom lens and the compact EF 50mm f/1.4 USM standard prime lens, it provides two excellent options in a single bundle for stunning detail and fast focusing.
Whether taking a shot of a changing sunset or the beauty of a smile, you can be sure you'll capture the moment with both lenses available to change on the go. An L-Series lens for high optical performance, the EF 17-40mm f/4L USM brings out detail in wide shots from dramatic landscapes to group pictures, and is weather-resistant for reliable use even in harsh conditions.
The EF 50mm f/1.4 USM is compact, lightweight and highly portable with a bright maximum aperture of f/1.4 for excellent low-light performance and beautiful background blur ideal for portraits. Both lenses use an ultrasonic motor that delivers fast and near-silent autofocusing with full-time manual focus, helping to ensure you can take the shot when you want, how you want.
Canon 2 Lens Kit Features
17-40mm Lens – Optimized for Digital Imaging
17-40mm Lens – High Speed Rear Focusing
17-40mm Lens – Close Focusing to 11 inches
17-40mm Lens – Non Rotating Front Element
17-40mm Lens – Rear Gel Filter Holder
17-40mm Lens – Shorter and about 35% lighter than 16-35 f/2.8 L-Series Lens
50mm F1.4 Lens – Standard lens featuring superb quality and portability
50mm F1.4 Lens – Two high-refraction lens elements and new Gaussian optics eliminate astigmatism and suppress astigmatic difference. Crisp images with little flare are obtained even at the maximum aperture.
____
Product overview
Affordable, professional color
Rely on remarkable value for your printing needs. Spend up to 50% less per page compared with lasers.1 Save up to 50% with HP Instant Ink,2 and get the color and black text output you need without running out of ink.3
Innovative design for superb office productivity
Experience revolutionary HP Print Forward Design. Get high speeds for two-sided print and scan jobs with laser-like paper handling, and preserve real estate with space-saving design. Print longer—without reloading—from an optional second paper tray.
Mobile printing that keeps your business covered
Keep business moving from anywhere in the office. Connect to devices with touch-to-print functionality.4 Easily print when and where you need to from your smartphone, tablet, or notebook PC—and maintain privacy.5 6
Office productivity has never been easier
Stay productive with a large touchscreen and scan-to-network-folder-and-email capabilities that help you easily handle high-volume print jobs. Manage costs for a more efficient office with Color Usage Control.
Key Features
HP ePrint
Print photos, documents, and more when you're on the go, using HP ePrint.
2-sided printing
Allows you to print on both sides of the page, cutting your paper use by up to 50%.
Automatic document feeder
Allows multiple pages to be copied or scanned at one time
Color touchscreen (printer)
Manage jobs directly at the MFP, using the HP color touchscreen.
Ethernet (printer)
Add this device to your office Ethernet network to share with your workgroup.
Scan to email
Save time by sending scanned documents or photos directly from your printer to email recipients.
Wireless direct printing
Print wirelessly from your mobile device without a Wi-Fi code or password.
HP Original Ink Cartridges
HP 952 Black OfficeJet Ink Cartridge (~1000 pages)
HP 952 Cyan OfficeJet Ink Cartridge
HP 952 Magenta OfficeJet Ink Cartridge
HP 952 Yellow OfficeJet Ink Cartridge: composite yield (~700 pages)
HP 952XL Black OfficeJet Ink Cartridge (~2000 pages)
HP 952XL Cyan OfficeJet Ink Cartridge
HP 952XL Magenta OfficeJet Ink Cartridge
HP 952XL Yellow OfficeJet Ink Cartridge: composite yield (~1600 pages)
HP 956XL Black OfficeJet Ink Cartridge (~3000 pages)
____
About Vanguard VEO CM-264
The VEO CM-264 monopod is one of the most compact of its kind and yet still performs excellently at full extended height. It can be used for video or photo support and can also double as a walking stick. The 4-section carbon fiber legs come equipped with strong flip locks, maximizing the monopod's camera loading capacity. Quickly stabilize your shot on the anti-slip ball-type spike foot . The soft rubber handle will provide an unbeatable grip in any weather. You may then pack your VEO monopod away to fit easily in your carry-on to make it to your next adventure.
____
Reg Price $2249 Sale Price $2099 Expires 05/05/2017
Save $130 on a pair of Polk Audio Atrium 4 All-Weather Outdoor Loudspeaker
Black Reg Price $199.95 Sale Price $69.95 after $20 Mail in Rebate
White
About Apple MacBook Pro 15″ (2016)
Get this Apple MacBook Pro 15″ (2016), normally $2,249.00, on sale at $2,099.00 for a total savings of $150.00 and Shipping is free!
A touch of genius
It's faster and more powerful than before, yet remarkably thinner and lighter. It has the brightest, most colorful Mac notebook display ever. And it introduces the Touch Bar — a Multi-Touch enabled strip of glass built into the keyboard for instant access to the tools you want, right when you want them. The new MacBook Pro is built on groundbreaking ideas. And it's ready for yours.
Up to 130% Faster graphics
67% brighter display
Up to !& thinner
Touch Bar and Touch ID
The Touch Bar replaces the function keys that have long occupied the top of your keyboard with something much more versatile and capable. It changes automatically based on what you're doing to show you relevant tools you already know how to use — system controls like volume and brightness, interactive ways to adjust or browse through content, intelligent typing features like emoji and predictive text, and more. And for the first time, Touch ID is available on a Mac, enabling instant access to logins and fast, secure online purchases with Apple Pay.
Photos – Select a photo from your library, rotate images, and add a filter.
Final Cut Pro – Navigate through your project with an interactive display of your entire timeline.
Mail – Pick from your favorite emoji to add the perfect feeling to any email. Or type a message faster with predictive text.
Safari – Breeze through your open Safari tabs or touch a Favorite to view a saved site.
Keynote – Adjust the color of text and move through thumbnails in fullscreen.
Customization – In some apps, you can customize the Touch Bar with the commands that work best for you.
Performance
The new MacBook Pro elevates the notebook to a whole new level of performance and portability. Wherever your ideas take you, you'll get there faster than ever with cutting-edge graphics, high-performance processors, state-of-the-art storage, and more.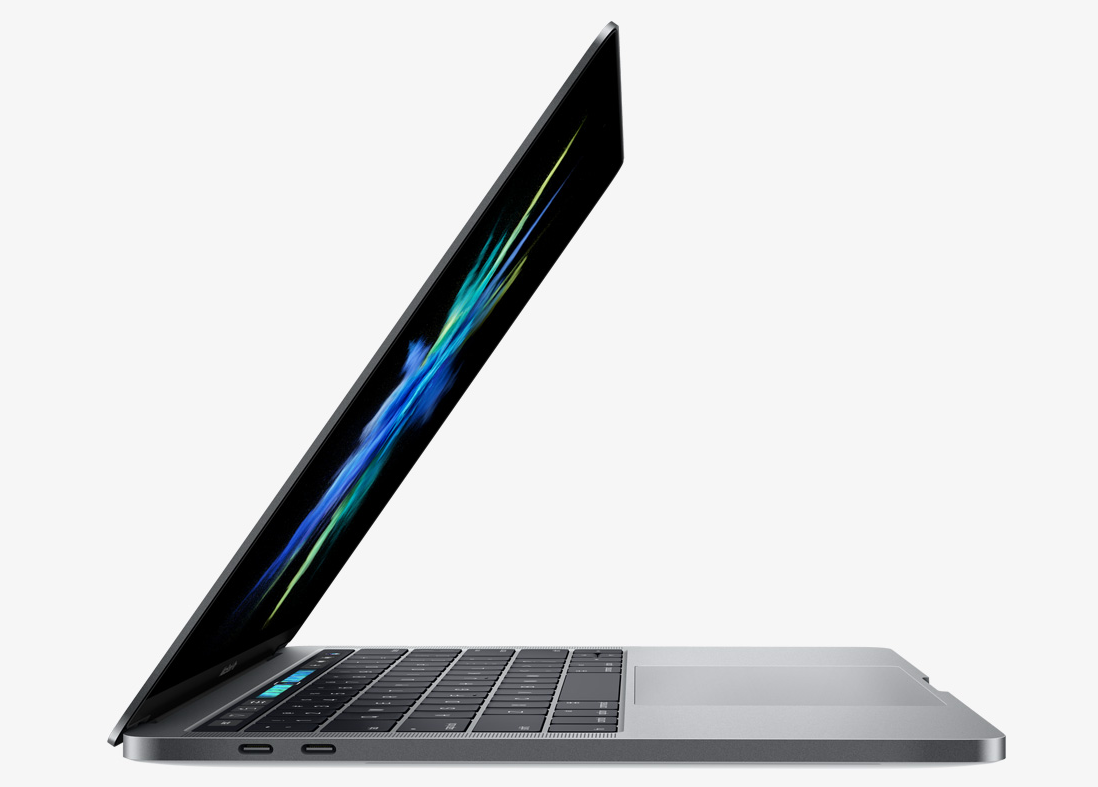 Graphics performance up to twice as fast.
The 13-inch model provides up to 103 percent faster integrated graphics than the previous generation. That means more time for what matters most — creating amazing work.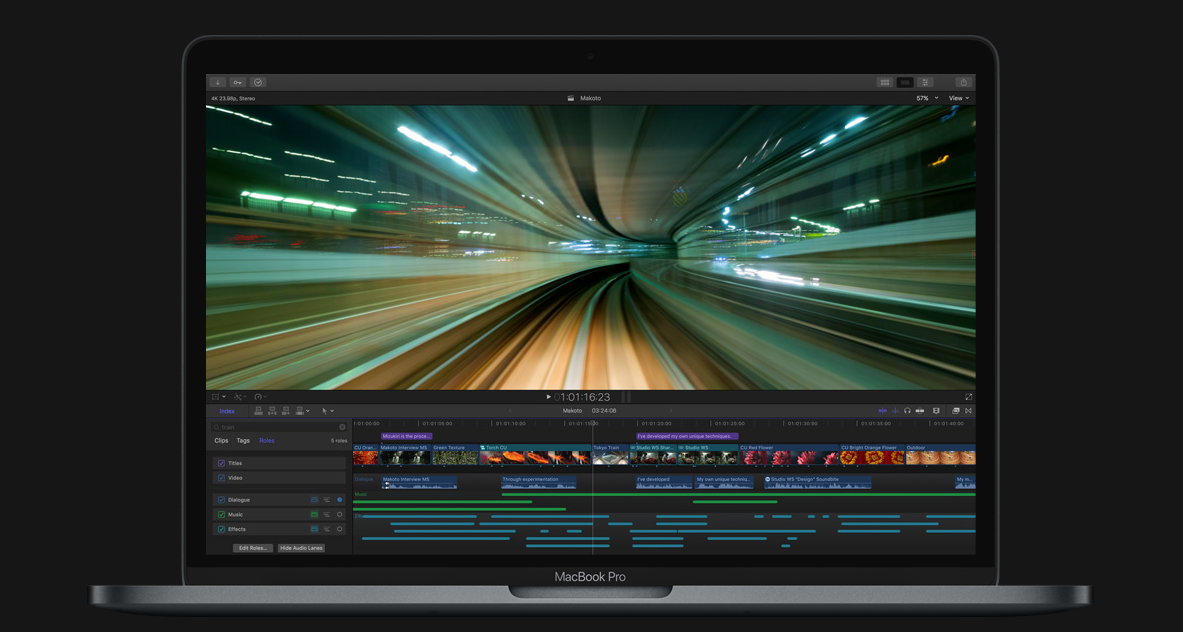 Edit multicam projects in Final Cut Pro X with up to 3 streams of full-resolution 4K video on the 15-inch MacBook Pro — with render speeds up to 57 percent faster.
Render 3D models faster in Autodesk Maya 2017 — with up to 130% better real-time performance than the previous-generation 15-inch MacBook Pro.
Play a graphics-intensive game like Tomb Raider on the 13-inch MacBook Pro with up to two times faster performance than the previous generation.
Faster flash storage
MacBook Pro includes a solid-state drive that's even faster than the previous generation, with sequential read speeds up to 3.1GB/s. The 15-inch model is the first available with a 2TB SSD — enough space to take even your biggest projects with you, without having to take an external drive. And its memory is faster than ever before.
Incredible power
With sixth-generation Intel Core processors, MacBook Pro delivers amazing performance — even when powering through the most pro-level processing jobs, like rendering 3D models and encoding video. At the same time, it can conserve energy when taking on lighter tasks, like browsing the web and checking email.
Impressive all-day battery life
The new MacBook Pro packs more performance into a thinner design, yet still provides all-day battery life — up to 10 hours for the 13-inch model and 10 hours for the 15-inch model. So you're free to keep watching, gaming, and editing from wherever you are.
The coolest thing you'll never see
The thinner the notebook, the less space for cooling. So MacBook Pro incorporates innovations throughout the system that eliminate heat more efficiently than the previous generation — increasing airflow during intensive tasks.
Retina Display
The new display in the MacBook Pro is the best ever in a Mac notebook. It features brighter LED backlighting and an increased contrast ratio, delivering deeper blacks and brighter whites. Its larger pixel aperture and variable refresh rate make it more power efficient than previous generations. And it's the first Mac notebook to support wide color, for even more vibrant greens and reds. This ensures truer-to-life pictures with realistically vivid details, essential for graphic design, color grading, and editing.
500 nits brightness
25% more colors than sRGB
67% higher contrast ratio
MacBook Pro now features P3 color, which makes 25 percent more colors available than standard RGB – revealing a much broader range of greens and reds.
Audio
he speakers have been totally redesigned to provide as much as twice the dynamic range and up to 58 percent more volume, with two and a half times louder bass for maximum boom. And they're connected directly to system power, enabling up to three times more peak power. So they make MacBook Pro the perfect choice for mixing a track on the fly, editing video on location, or enjoying a movie on the go.
Up to 58% more volume
Up to 2.5x louder bass
2x dynamic range
Keyboard and Trackpad
Interacting with the new MacBook Pro is a better experience all around. The keyboard has been redesigned to include our new, second-generation butterfly mechanism — meticulously refined for greater comfort and responsiveness. And the Force Touch trackpad is significantly larger, giving your fingers more room to gesture and click.
4x more key stability
Up to 2x larger trackpad
Thunderbolt 3
Thunderbolt 3 combines ultra-high bandwidth with the ultra-versatility of the USB-C industry standard to create one revved-up universal port. It integrates data transfer, charging, and video output in a single connector, delivering up to 40 Gbps of throughput for twice the bandwidth of Thunderbolt 2. And both sizes of MacBook Pro are available with four ports, so you can do all that from either side. Existing devices are easily connected with a cable or adapter. And Thunderbolt 3 is reversible, so no matter how you plug in, it's always right side up.
Up to 40-Gbps data transfer
Supports up to two 4K UHD displays
Charge and provide power from any port
Four Thunderbolt 3 ports
macOS
macOS is the operating system that powers every Mac. It's engineered to take full advantage of the hardware and designed to be as easy to use as it is beautiful to look at. macOS includes an amazing collection of apps you'll use — and love — every day. It also features iCloud and other innovative ways for your Mac, iOS devices, and Apple Watch to work together.
Get more done on your Mac just by asking Siri.
Work seamlessly between all of your Apple devices.
Store files in iCloud automatically and access them on any device
____
About Squire Jazzmaster Electric Guita
For limited time only, save 38% on the Squire Jazzmaster Electric Guita dropping from $449.99 to $279.99 when you buy this item at Adorama.com and Shipping is free!
Squier presents one of its most distinctive instruments ever in the deeply resounding form of the Vintage Modified Baritone Jazzmaster. Tuned A to A and featuring the 30″ scale length of a short-scale bass, it lends a rumbling baritone sonic character all its own to your sound and features the authentic vintage-style look of Fender's seldom-seen Antigua finish, with a matching pickguard.
Fingerboard binding and white pearloid block inlays impart even more elegance and that deep one-of-a-kind twang rocks loud and clear from a pair of Dual Duncan Designed single-coil Jazzmaster pickups. All together, the Vintage Modified Baritone Jazzmaster makes for a singularly exciting Squier playing experience.
ESIST may receive a commission for any purchases made through our affiliate links. All commissions made will be used to support and expand ESIST.Tech