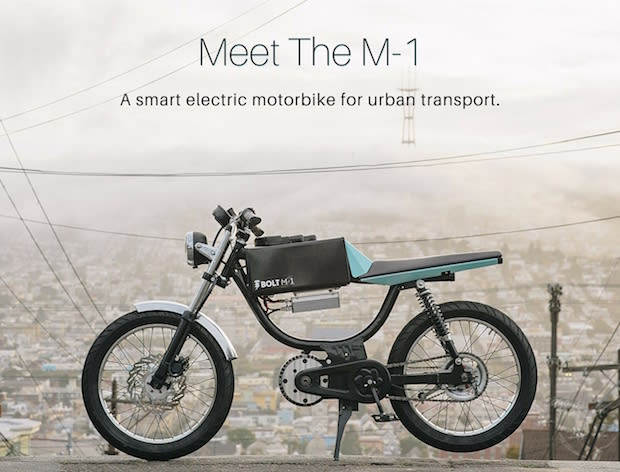 Inspired by the classic mopeds from the '70s and '80s, but with the technology of today, the M-1 merges software and hardware with retro styling.
Designed and built by Bolt Motorbikes in California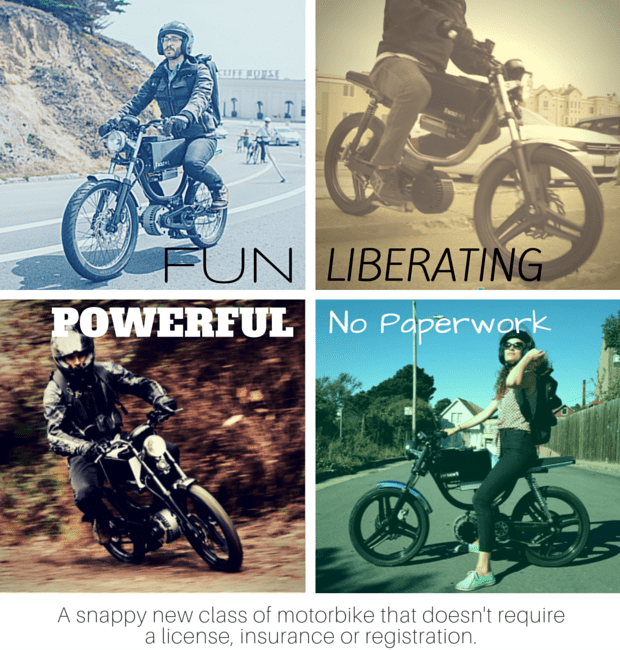 There is something inherently cool about motorcycles.  The M-1 delivers freedom and style with a twist of the throttle.  On an M-1, you feel like a superhero everywhere you go.  Hills flatten, distances shorten, and you don't have to pedal once.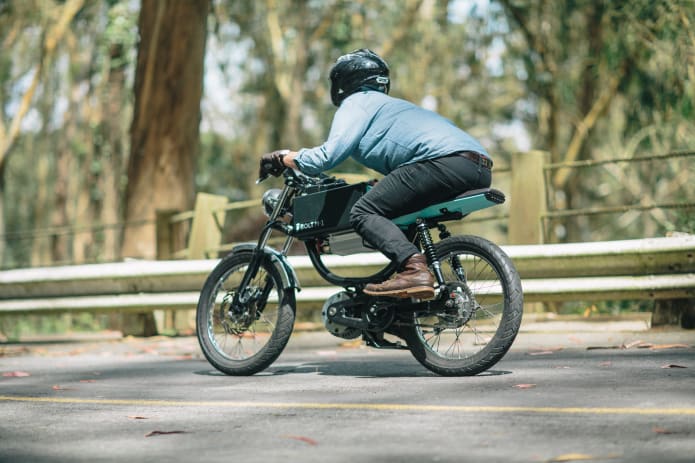 The M-1 will turn heads and take you anywhere at anytime – just twist and go.  If you can ride a bicycle, you can ride an M-1.  There are no gears to shift, no clutch to grab, and the ride is whisper quiet.  Go faster and farther than any bicycle and get to places motorcycles can't.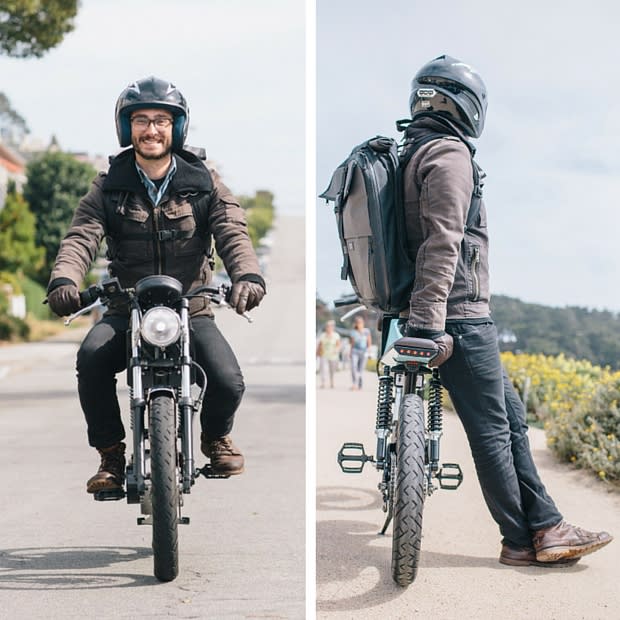 The ride experience is at the heart of our design process.  As passionate motorcycle riders, we set out to make a motorbike that we were excited to ride, but also that anybody can ride.  We have riders who had never twisted a throttle hop on, and in seconds, they are riding like naturals.
Cruising in the park, commuting to work, riding doubles, or tearing up the twisties, riders find new reasons to get out on an M-1.  And the best part is that you can do it without a license, registration, or insurance.

The M-1 has rugged construction and is designed to handle mean city streets and off-road trails in all-weather conditions.
In Economy Mode, the M-1 is tuned to meet California electric bicycle regulations, but don't be fooled.  At 20 mph and with a range of 35 miles (city), you can ride all day, use the bicycle lane, and park anywhere.  You can even cruise into Golden Gate Park on Sundays when it is closed to vehicular traffic!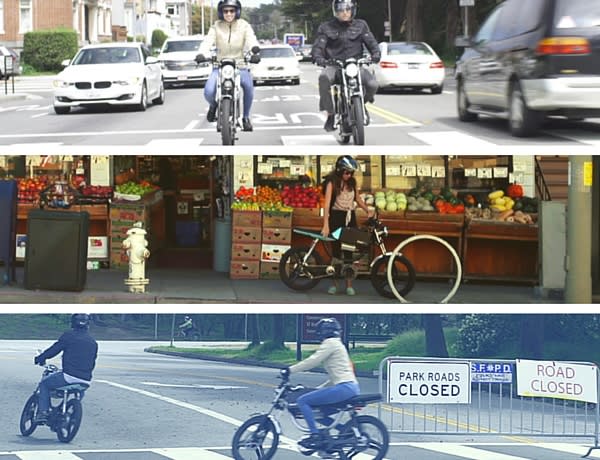 Sport Mode delivers pure power, style, and attitude.  Thrill-seekers and the adventurous can rip at speeds of 40 mph and have enough torque to climb the nastiest hills in San Francisco.  Feel the rush of a 110cc motorcycle without the responsibility of a 300+ pound machine.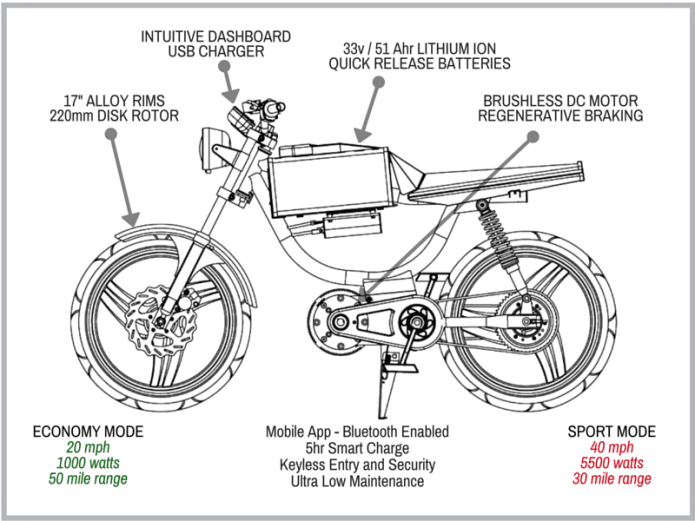 100% electric (may contain traces of bicycle)
Steel frame
weight: 140lbs
carrying capacity: 2 riders (up to 350lbs)
Wheel size: 17 inches
Wheelbase: 45 inches
Seat height: 27 inches
Front brake: 220mm hydraulic disc
Rear brake: Regenerative / drum
LED headlight and integrated tail/brake light
Functional pedals

Keys are a thing of the past!  The M-1 is Bluetooth-enabled and connects to your smartphone.
Never lose your keys again
Share access with your trusted network
Remotely track activity
Crash detection
Listen to music (because now you don't have a loud engine roaring)
Navigation at your fingertips
Control security
With an internet-ready motorbike, you can do some very cool things!

If you lose your phone or your screen breaks (things happen), don't worry, because the M-1 is also password-activated.

Our 5-hour smart charger carefully manages battery health and ensures maximum range.  Simply plug one end of the charger into a standard wall outlet, the other into the bike, and press "GO."  Five hours and twenty-one cents of electricity later, you are ready to ride again.
We designed the M-1 with city-dwellers in mind.  No garage, no problem.  Our patented battery quick-release allows you to lock your M-1 outside, remove the batteries, and charge inside.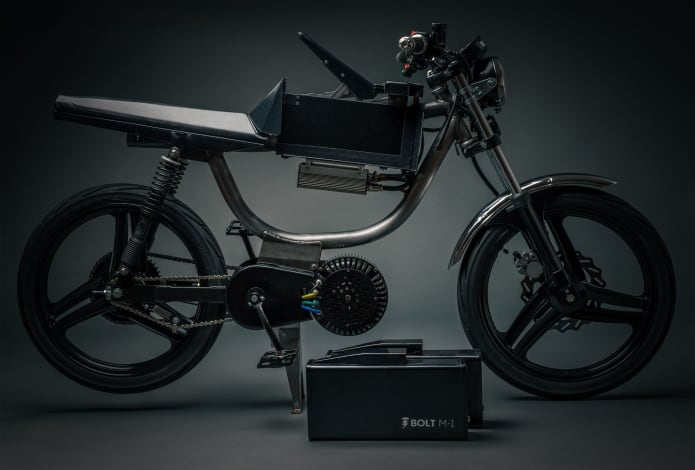 Let's face it, getting around in a city can be a real pain in the butt.  The problem is that most trips are short, and existing options just don't cut it.
Cars are expensive / hard to park / stuck in traffic
Buses are slow / unreliable / stuck in traffic
Motorcycles are heavy / require a special license
Bicycles are exhausting / range-limited / slow
The M-1 solves these problems in a way that makes you look forward to getting around in your city, whether it is your trip to work, to get a burrito across town, or just for a joyride.  Don't waste time in traffic or looking for parking; spend your time doing things you love…like riding your M-1.
In addition to the nuisance of parking and traffic, there is a need for renewable-energy-powered vehicles.  The M-1 is not only fully-electric, but it uses the most environmentally friendly lithium chemistry available, and our patented batteries are 100% serviceable and 100% recyclable.
__
This article and images were originally posted on [Indiegogo]
Credit to Author and Indiegogo